Update 10/31/18: This product is now sold out at Kohl's, but back in stock (and on sale!) at Target, and back in stock at Amazon, too. An earlier version of this story remains below, but I've added links to buy at the bottom. Happy shopping!
When I first started researching the toys to buy my daughter this year, I had no idea that these little Scruff-a-Luvs would be so big. I mean, I know that surprise toys are huge, but I didn't think much of these mangy rescue pets that you have to wash. Seemed like a lot of work (maybe that's just the mom in me).
I couldn't have been more wrong! The Little Live Pets toy made every "top toys 2018" list, and they're already selling out or sold-out across retailers. And it's only October 25.
What exactly is a Scruff-a-Luv? It's a toy that you purchase, aka "Rescue," without knowing which animal–Puppy, a Kitten or a Bunny–is inside. There are two colors, Pink and Aqua, but when you purchase the box you don't know which of the three animals will be inside. That's what makes it like other surprise toys (ie. the L.O.L. Surprise dolls) on the market. Kids love a good reveal. Once you've rescued the animal, inside the box you find "sad ball" of matted pink or blue fur. You wash, dry, brush and most importantly love the pets, and thus you are FFFs (Furry Friends Forever).
Kids are obsessed with these interactive furry pets, hence why they are the hottest holiday toy of 2018. It's completely sold out in both Pink and Aqua at Target, Wal-Mart, and Amazon.
In fact, there is only ONE store that still has the Pink still in stock for $19.99 as of press time. If you don't want to be left empty-handed this year (or pay $400 on eBay!) you absolutely must *add to cart* immediately.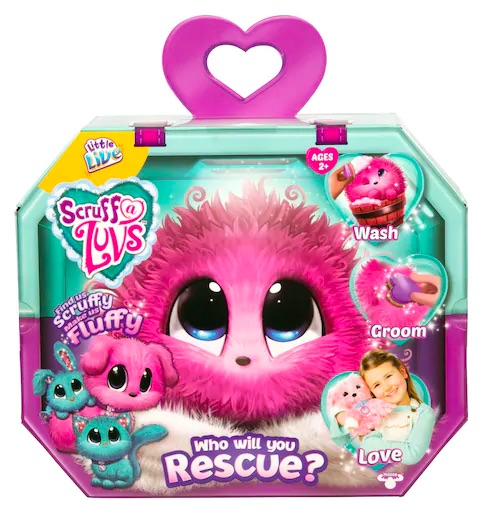 Little Live Scruff A Luv Pink ($19.99) — UPDATE 10/31/18: The product is now sold out
Kohl's is the only retailer that still has the Scruff-a-Luv Pink still in stock (although it is marked as a "Popular Item" on the retailer, so we think it will be going fast!). Grab one now before they're all gone!
And if you're looking for the blue, there are currently 0 retailers that still have the Aqua in stock.
If you're a desperate parent wondering where you can still buy Scruff-A-Luvs in Pink and Blue, at Amazon and Wal-Mart. Hurry:
SHOP SCRUFF A LUV AT TARGET (on sale for $19.79, ends 10/31/18)
SHOP SCRUFF A LUV AT WAL-MART (on sale for $19.72)
SHOP SCRUFF A LUV AT AMAZON (#1 Best Seller in Stuffed Animals & Teddy Bears)