100+ Gift Ideas For Everyone On Your Holiday List
You know what they say, good habits form during childhood. That's why as parents, it's important to establish healthy routines while your children are young. This is especially true when it comes to their teeth and gums. Not only does proper care support the developmental process, but it also goes a long way to prevent damage as your children get older.
But we get it: getting your child to understand the importance of oral care isn't easy. And getting them to actually practice good habits? It can seem like a never-ending battle. Until now that is.
LavaRox™ – Probiotic for Oral Health are raspberry-flavored, candy-like granules that ensure your child's teeth and gums are getting the support they need. Even better, the delivery method is ideal because the active ingredients get directly to the right spot. They have a yummy taste and they dissolve easily once they're in your child's mouth. Worried about the ingredients? Don't be! This probiotic is vegetarian, dairy-free, gluten-free, and sugar-free and it doesn't contain artificial flavors, colors or chemicals.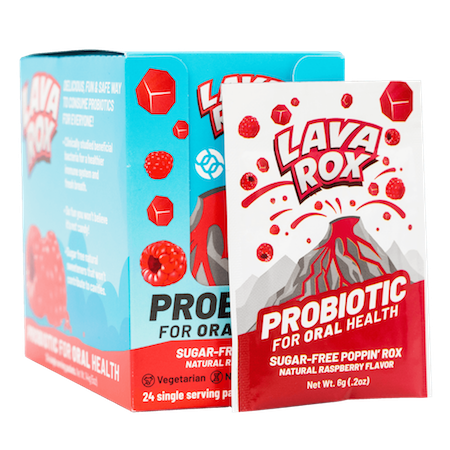 LavaRox™ – Probiotic for Oral Health, 24 ct ($47.96)
Wondering how is this possible? The LavaRox™ – Probiotic for Oral Health is made with the patented and clinically-tested probiotic, Streptococcus salvaris K12, that promotes the growth of healthy bacteria while preventing the growth of harmful bacteria that leave your child at a higher risk to get ear, nose and throat infections. So by adding this probiotic to your child's daily routine, you'll not only be helping with fresh breath and preventing tooth decay, but you're also supporting the general health of their ears, nose and throat.
The start of a new year is as good a time as any to prioritize your family's health and well-being, so don't think twice about stocking up on LavaRox™ – Probiotic for Oral Health. Trust us, you'll be so happy you did.
The editors at SheFinds wrote this post on behalf of Advanced Orthomolecular Research and received compensation as part of our agreement.