100+ Gift Ideas For Everyone On Your Holiday List
Keeping your child bug-free probably seems like an impossible task during this time of year. Between school, daycare and after-school activities, the chances of your little ones picking up the latest set of germs going around is definitely pretty high. And when they fall ill, you know what that means, right? One less sick day at work for you!
But what if we told you there was a simple and easy way to send your child off knowing that their immune system and digestive function are protected? Listening now? You need to stock up on LavaRox™ – Probiotic for Immune Health. These cherry-flavored dissolvable probiotics are an easy way to help boost your child's immune system. An added bonus? They are vegetarian, dairy, gluten, and sugar-free and have no artificial flavors, colors or chemicals!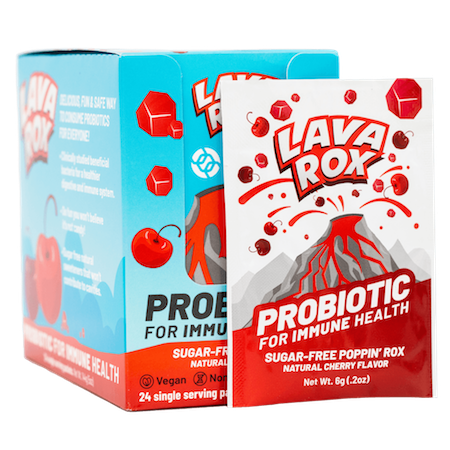 LavaRox™ – Probiotic for Immune Health, 24 ct ($47.96)
In a survey conducted by OnePoll and commissioned by Advanced Orthomolecular Research, 80% of the 2,000 Americans that were polled were parents and answered that when purchasing vitamins/supplements for their child, they would most likely purchase one for digestive health. And we don't blame them since maintaining a healthy gut and bowel are key factors when it comes to warding off those unwanted bugs and germs.
That's why adding LavaRox™ – Probiotic for Immune Health to your child's routine is such a good idea, especially during the winter months when so many kids are prone to sickness. This probiotic is made with two clinically-researched human strains of beneficial bacteria to promote a healthy microflora and immune function. Of course, it also prevents constipation.
Worried you won't be able to get your kid to take this probiotic? Fear not! They're cherry-flavored and get all bubbly and fizzy in your kid's mouth as they're dissolving. In other words, they don't taste bad and they're fun to eat!
Ready to take back your sick day? Order your supply of LavaRox™ – Probiotic for Immune Health now.
SHOP LAVAROX IMMUNE HEALTH NOW
The editors at SheFinds wrote this post on behalf of Advanced Orthomolecular Research and received compensation as part of our agreement.